Wisconsin Mortgage Corporation Launches New Rate Buy Down Program
For home sellers looking to differentiate themselves in the market, Wisconsin Mortgage Corporation and Shorewest, REALTORS® might have to tool to do it. Wisconsin Mortgage has a new rate buy down program called Rate Relief. The Rate Relief program is a unique marketing program centered on seller-funded preferred financing. While the program is primarily offered to sellers listed with Shorewest, REALTORS®, anyone financing with Wisconsin Mortgage can take advantage of it.
Here's how the program works. The seller commits to pay 3% of the purchase price towards a financing package from Wisconsin Mortgage. The 3% will be used to buy down the mortgage rate and reduce closing costs.
For buyers, Rate Relief provides a permanent interest rate buy down. Preferred financing significantly reduces the monthly mortgage payment as a result of obtaining a below-market interest rate. Qualifying for a larger home is another advantage of the preferred financing.
For the seller, preferred mortgage rate financing sets your home apart from other homes on the market. Home showings increase due to a higher level of interest from homebuyers. Plus, the target market expands as a result of more people qualifying due to lower interest rates. With the Rate Relief program, sellers also see less negotiating on price and contract terms -- especially when the preferred financing is contingent upon receiving a full-price offer.
Here's an example of the savings available to a buyer with the Rate Relief program.
How Much Will This Really Save Me?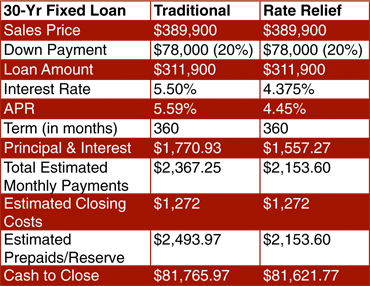 In the above example Rate Relief can help by:

1. Saving with a Lower Mortgage Rate
(Savings below is based on the example above.)
Each Month: $213.66
1 Year: $2,563.92
5 Years: $12,819.60
10 Years: $25,639.20
30 Years: $76,917.60
2. Allowing the buyer to purchase more house with a lower interest rate.
To find out more information on the Rate Relief program or to contact a loan officer call 262.786.5250 or visit wimort.com.